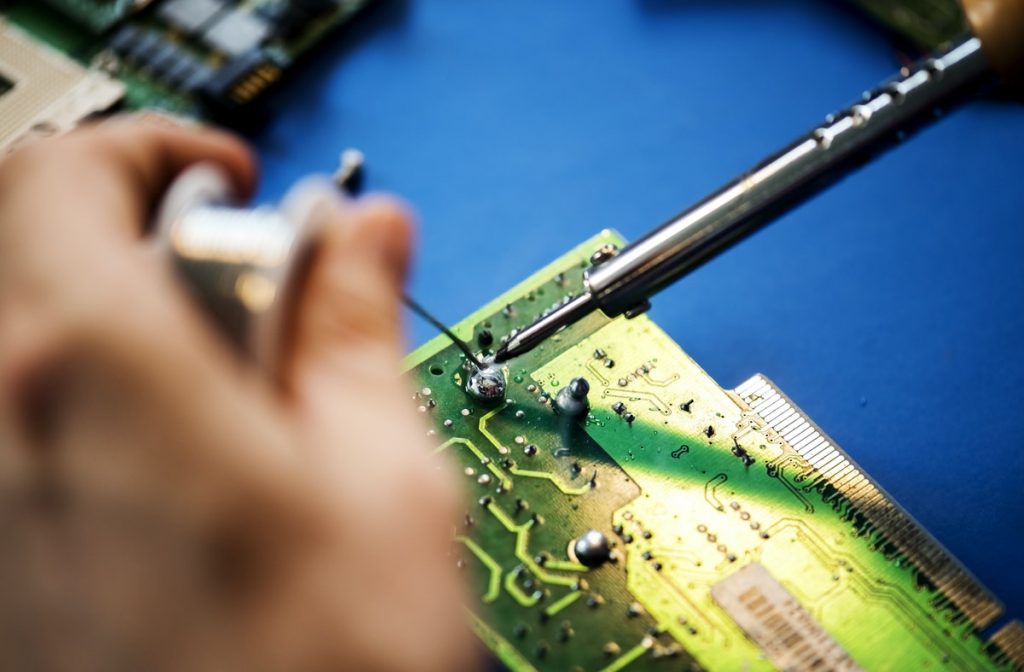 Precision Machining for the Electronics Industry
Maroney Company is one of the foremost partners for the manufacturing of precision instruments for the electronics industry. We work closely with some of the leading electronics businesses in the world. Our focus is on providing our clients in the electronics industry sector with custom machined precision parts while optimizing their entire supply chain. Our commitment to quality processes is exemplified by our industry certifications like AS9001AD and ISO 9001:2015 . We are equipped to not only handle the most complex designs but also have the capability to scale in accordance with our clients' needs.
The highly skilled and professional technicians and machinists at Maroney Company make use of the latest, state-of-the-art machinery to produce custom machined parts for the electronics industry. This allows our clients to create an agile supply chain that caters to newer markets.
We adhere to strict manufacturing protocols and guidelines that are prevalent in the industry. This allows us to take any complex design and transform it into custom parts. Maroney company works closely with Fortune 500 companies when it comes to the electronics sector.
Precision Machining Electronics
The electronics industry comprises of companies that design, manufacture, assemble, and service electronics parts and components. Modern society is heavily dependent on electronics. We use so many electronic devices and components in our daily lives- from our cell phones and personal computers to wearable medical devices and even industrial equipment involving robotics.
Needless to say, innovation plays a crucial role in this industry. Additionally, critical factors like the implementation of specialized manufacturing equipment, precision machining processes, use of high-quality materials like polymers and superalloys determine the success of the electronics industry.
Some of the key business areas for the companies in the electronics industry are the following-
Semiconductor manufacturing and supply
Industrial equipment
Computer and office products
Consumer electronics and appliances
Networking and communication equipment.
A few of the leading names in the global electronics industry are Samsung, Hitachi, Microsoft, Apple, Sony, LG Electronics, Honeywell International, and Mitsubishi.
Custom Electronics Components
At Maroney company, we put emphasis on the custom machining of highly precise electronics components for machinery. We have the capabilities for designing and manufacturing custom machined parts. Our team of efficient and highly-skilled machinists has years of industry work experience and works with the top-of-the-line machinery to make this possible.
High Production Capabilities- Our EDM machine shop and CNC services allow us to manufacture precision parts in large quantities. The skilled technicians at our company take the most complex of designs and successfully produce custom machined parts with accuracy. If you are looking for high-volume quality service, then Maroney Company is your best choice.
Guaranteed Quality- As an AS9001AD and ISO 9001:2015 certified organization, we put a lot of emphasis on delivering the best quality services to our clients all the time. Our custom manufactured products are guaranteed to meet even the most stringent quality standards.
Years of Industry Experience- Maroney Company has been a leading player in the industry for more than 6 decades. Our machinists have extensive experience and the necessary skill required to produce the best quality precision parts for the electronics industry.
Electronics Machining Equipment and Capabilities
Below are examples of the advanced machinery and tooling capabilities available at the Maroney Company.
Complete 4 and 5 Axis Milling and Jig Boring department.
Complete Multi-Axis CNC Sinker EDM and Wire EDM including programmable "Turn While Burn" capabilities.
Complete CNC Lathe department.
Complete Grind and Hone department, including Jig Grind, Manual and CNC I.D. / O.D. Grinding, Surface Grinding, Centerless Grinding, and Honing.
Optical Flat Diamond, Double Face, Single Face, Roll Lapping and, Extrude Honing.
DP Technology "ESPRIT" CAD-CAM programming Systems supported by (6) Workstations.
All systems capable of receiving and processing customer-supplied computer files from customers via our 265-bit AES Encrypted File Transfer Network.
Complete inspection department with Automated Coordinate Measuring Machines.
Highly secure, organized and state-of-the-art workspaces.
Electronics Machining Industry Applications
Some of our top applications in the electronics industry are as follows-
Custom machining of tools, brackets, and chassis for manufacturing processes.
Rapid machining and prototyping to achieve faster end-to-end design cycles.
Prototype machining for low-volume productions.
Production support using mechanisms like CNC precision machining and milling services.
Trusted Manufacturer of Custom Electronics Parts
Maroney Company is one of the leading manufacturers of custom machined parts and precisions machining for product engineering solutions of the electronics industry. We have extensive experience of over 60 years working closely with some of the leaders in the field of electronics equipment manufacturing.