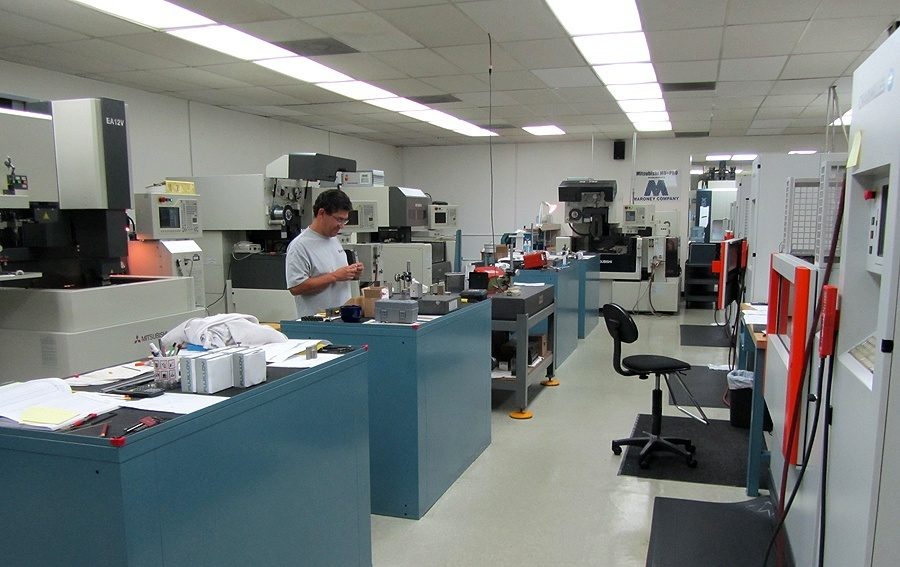 EDM Electrical Discharge Machining Services
With over six decades of experience in the field of precision machining, Maroney Company is one of the leading providers of EDM services worldwide. The experienced machinists and engineers at our company use the latest state of the art machines to fulfill the customer's EDM requirements.
We have the following EDM Equipment:
Sinker EDM Department 

Wire EDM Department 
Maroney Company is an AS9001AD and ISO 9001:2015 certified organization. In addition to these certifications, the combination of state-of-the-art machinery and highly-trained professional technicians allow us to successfully undertake complex cylindrical grinding and other precision machining tasks. We achieve this thanks to our detailed, precise, and thorough approach to detail.
When it comes to precision engineering services like cylindrical grinding, process quality control is essential. The disciplined and experienced technical staff at Maroney Company adheres to stringent quality standards. One of the steps in which they achieve this is by maintaining properly organized and clean workspaces. Additionally, temperature control systems keep these facilities further secure.
All these factors have helped Maroney Company to provide exemplary and consistent services to the customers over the years.
At Maroney Company we take it to the next level when it comes to safety and quality control. We achieve that by providing our great machining and engineering personnel the devices, tools, and machinery they'd need to please any of our customer's requirements and desires, with an uncanny precision due to our excellent care into detail. Let us introduce you to our state-of-the-art EDM equipment in a detailed fashion:
In order to provide superior EDM Services, we separate our activities into two departments:
Sinker EDM Equipment and Capabilities:
Makino EDAF3-FH CNC
The CNC process stands for Computer Numerated Control and provides a computer numerical controlled process for a wide variety of cutting processes. This type of machine produces very precise results, has high reliability, and is very durable. It is a highly recommended machine for anyone that needs to cut metal and perform other precision tasks that require accuracy in a snap.
EDM Makino machines are an ideal match for anyone that needs to produce a high-quality, accurate part for a wide variety of applications. At Maroney Company, we use state-of-the-art technology and designs, so we need machinery that cuts material with accuracy and durability. We've got 1 Makino EDAF3-FH CNC at our disposal to provide our customers with the greatest service.
Mitsubishi EA12V CNC
Up to 80% less graphite electrode wear. Solid, compact, and with sufficient performance reserves when it matters – yet 20% more economical. The EA-S Series comes with the further-developed FP805 all-around generator, graphite technology, and the new IDPM Power Master. We at Maroney Company, have at our disposal the equipment giant among die-sinking erosion systems; a genuine all-rounder with precise axis motions, whatever the loading. Providing the best EDM Service available in the market is only a consequence of our company's commitment to the highest performance, quality and safety standards. That's why we also have the Mitsubishi EA12V CNC at our disposal.
Mitsubishi V25FS & V25F CNC Series
At Maroney Company we've got at our disposal one of each machine from Mitsubishi for any of our EDM services needs, the V25FS and V25F CNCs. Many machines are the epitome of dependability and durability, we have spent many years designing, building, and maintaining many precision engineering projects with this reliable machinery. 
Another powerful and not least important Sinker EDM we've got at our disposal:
Mitsubishi ED2000 CNC
Current CT 500 Submersible CNC with Angular Head Attachment
Wire EDM Equipment and Capabilities:
Charmilles FI440CC
From ultra precise machining of miniaturized components to powerful solutions for demanding high-speed machining with respect to surface accuracy. In Maroney Company we've got at our disposal 2 of these machines for wire EDM. They use a metallic wire (electrode) to cut a programmed contour in a workpiece. Extrusion dies and blanking punches are very often machined by wire cutting. In the machining area, each discharge creates a crater in the workpiece (material removal) and an impact on the tool (wear of the electrode) remains minimal.
The Charmilles FI440CC comes with a Servo Controlled AXIS "turn while burn", that makes it perform more dynamically for the machinist who's doing the tasks, making it a more hands-on activity that improves precision and increases the number of options.
Mitsubishi FA10S
This high-accuracy machining with a surface roughness of Rz3.u um (3 cuts technology) Is a great feature we at Maroney Company offer to our clients. A highly accurate fi with a straightness and shape accuracy of ±3μm (.00012″) is possible. Special machining acknowledgement is not required when using PM5 or SL Control, this makes it the machine to go to when the project requirements are very detailed and specifics in areas that are relatively small.
Another great wire EDM services we at Maroney Company provide include the next machinery:
Mitsubishi FA 10 with Programmable Rotary Axis
Mitsubishi MD-PRO with Programmable Rotary Axis
Contact Us for your EDM Electrical Discharge Machining Requirements
At Maroney Company, we look forward to helping our customers with their EDM service needs. Please give us a call at (818) 882-2722 or contact us to discuss your requirements and find custom solutions tailored just for you.