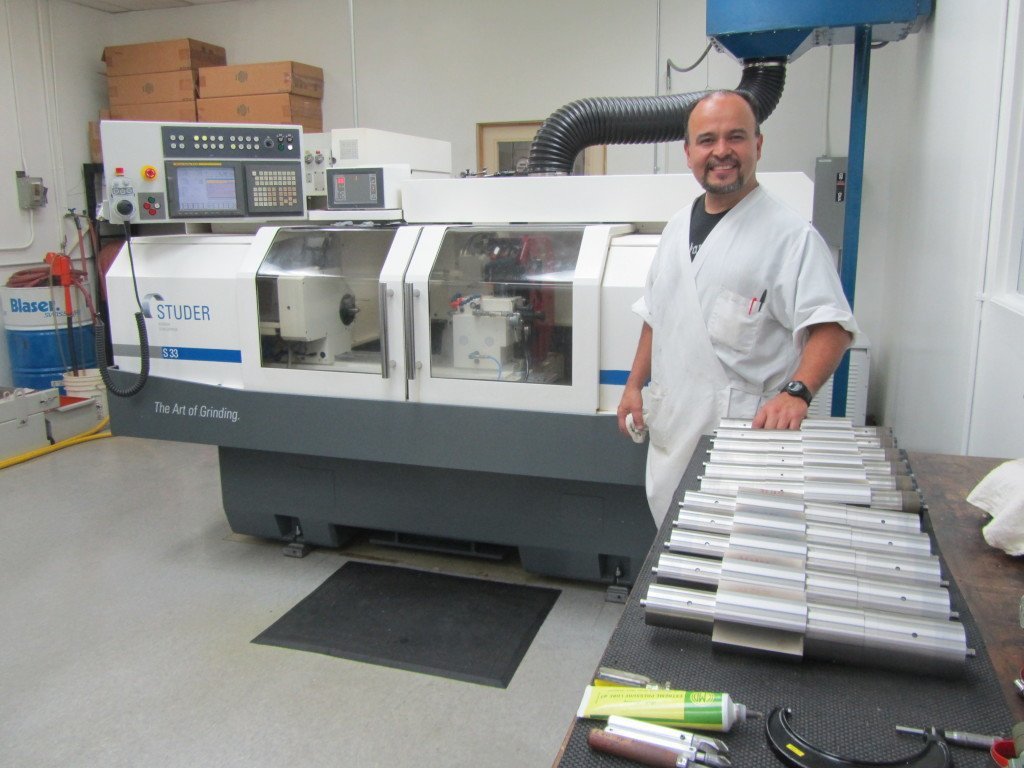 Cylindrical Grinding Services
With over six decades of experience in precision machining, Maroney Company is one of the leading providers of cylindrical grinding services worldwide. The experienced machinists at our company use the latest state-of-the-art machines to fulfill the customer's cylindrical grinding requirements.
We have the following cylindrical grinding equipment:
Maroney Company is an AS9001AD and ISO 9001:2015 certified organization. In addition, the combination of state-of-the-art machinery and highly-trained professional technicians allow us to undertake complex cylindrical grinding tasks successfully. We achieve this thanks to our detailed, precise, and thorough approach to detail.
When it comes to precision engineering services like cylindrical grinding, process quality control is essential. Therefore, the disciplined and experienced technical staff at Maroney Company adheres to stringent quality standards. Hence, one of the steps to achieve this is by maintaining properly organized and clean workspaces. Additionally, temperature control systems keep these facilities further secure. 
These factors have helped Maroney Company provide exemplary and consistent services to the customers over the years.
What is Cylindrical Grinding?
Cylindrical grinding is a method used to shape the outside of an object. This is achieved using a cylindrical grinder. This machine can work on various shapes, but it always has a central axis of rotation, which runs at a speed that the welder controls. Likewise, the cylindrical grinder's essential actions are based on the fact that the work must constantly be rotating, the grinding wheel must constantly rotate. As the grinding wheel is fed towards and away from work, either the work or the grinding wheel is transversed to the other.
Equipment and Capabilities:
Studer Favorit CNC-Universal I.D / O.D
The favoritCNC is a universal cylindrical grinding machine for medium-sized workpieces in individual and large series.
It has distances between centres of 650mm (25.6″) / 1000mm (40″) and a centre height of 175mm (6.8″). In addition, it can machine workpieces with a maximum weight of 80kg (176lbs) / 120kg (264lbs).
Subsequently, it can be easily adapted to other grinding tasks. This is done using various accessories such as in-process gauging, balancing system, contact detection, and length positioning. The solid Granitan® S103 machine base forms the foundation for a cylindrical grinding machine. Equipped with high-quality components, it guarantees maximum precision, performance, and reliability over many years. In addition, the full enclosure ensures an optimal view of the grinding process.
Studer S33 CNC
The S33 is a CNC universal cylindrical grinding machine for the individual and batch production of medium-sized workpieces. It has a distance between centres of 400mm (15.7″) / 650mm (25.6″) / 1,000mm (40″) / 1,600mm (63″) and a centre height of 175mm (6.9″). It can machine workpieces with a maximum weight of 150kg (330lbs).
Changing over from grinding between centers to live spindle grinding is effortless on this machine. The new wheel head has two motor spindles. These enable the grinding of even more complex workpiece geometries in a single clamping. Its foundation is a machine base made of solid Granitan® S103.
Studer RH750 Universal Grinder
The Studer RH750 Universal Grinder is an excellent product that provides precision performance for your Cylindrical Grinding needs. The s35 motor fitted into the Studer utilizes high-speed electronic controls. These make it ideal for any project that demands ultra-precise grinding quality and accuracy. In addition, the s35 machine also incorporates a unique s-factor. This feature allows precise adjustments to the grinding wheel speeds, offering several grinding quality and patterning options. Also, this Grinder by Studer has been designed to provide users with a wide range of capabilities. These include interchangeable bedplates, accessory drive plate options, and many more. In addition, the various attachments that can be used with this machine are ideal for any grinding quality and accuracy
The Studer RH750 Universal Grinder has several advantages over the other brands of grinders that have been previously released. The first advantage is that it incorporates the fully adjustable s-factor from the previous Studer Models, which helps to create many custom grind patterns. The s-factor has also been further improved with the use of Precision Slip Lock-nut that helps secure the grinding wheel so that the user does not need to constantly adjust the speed of the machine during the grinding process.
Crystal Lake Cylindrical Grinder
This particular machine tool manufacturer has a solid reputation for providing excellent customer service, and this quality comes standard with every single part they sell. We have supplied machined cuts and custom CNC lathe parts for many years to some of the world's best-known companies focusing on producing quality cylindrical grinders, and CNC lathe machined parts. Crystal Lake is continually upgrading its designs and product offerings to meet the needs of its end users. This commitment to providing its consumers with top-notch quality customer service continues to amaze and entice new ones to its lineup of products.
Contact Us for your Cylindrical Grinding Requirements
At Maroney Company, we look forward to helping our customers with their precision machining needs. Please give us a call at (818) 882-2722 or contact us to discuss your requirements and find custom solutions tailored just for you.